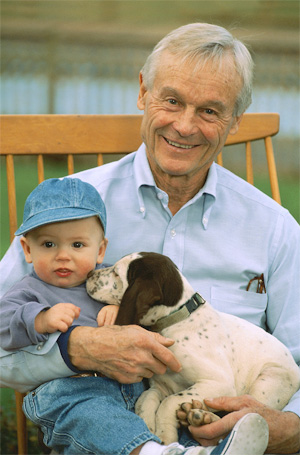 Books
Ames, Ed. A Handbook for Widowers. Learn More...
Ankersmit Kemp, Edith and Kemp, Jerrold. Older Couples: New Romances: Finding and Keeping Love in Later Life. Celestial Arts; Toronto (2002).
The book offers inspirational as well as practical advice for finding, attracting, and maintaining a loving partnership in later life. It's based on a series of interviews with married or committed couples age 55 and older.
ISBN# 1-58761-156-2
Baldacci, David. One Summer. (2011).
After the death of his devoted wife, a father struggles to keep his family (three children) together and in the process learns to love again.

Bekkers, Tom, MSW, APSW and Schaefer, Gerald J. The Widower's Toolbox. New Horizon's Press; Far Hills NJ (2010). Learn More...
Bonanno, George A. The Other Side of Sadness: What the New Science of Bereavement Tells Us About Life After Loss. Basic Books (2009).
Butler, Robert N. and Lewis, Myrna I. The New Love and Sex After 60. Ballentine Books Publishing (2002, 1976).
Has a good chapter on finding new relationships in addition to chapters on sexual activities (and challenges) for those over 60.
ISBN# 0-345-44211-3
Campbell, Scott and Silverman, Dr. Phyllis. Widower: When Men Are Left Alone. Prentice Hall; New York (1996).
Colby, Fred. Widower to Widower: Surviving the End of Your Most Important Relationship. (2017). ISBN# 0692891242
Colgan, Mark R. Details After Death: Navigating the logistics after a loved one dies (5th Edition). (2017). ISBN# 0692854126
Doka, Kenneth J. and Joyce D., Davidson. Living with Grief: Who We Are, How We Grieve. Foreword by Jack Gordon. Routledge (1998).
Doka, Kenneth J. and Martin, T. Men Don't Cry, Women Do: Transcending Gender Stereotypes of Grief. Foreword by Dr. Therese A. Rando. Routledge (1999).
Elmer, Lon. Why Her, Why Now: A Man's Journey Through Love and Death and Grief. Signal Elm Press; Seattle, Washington (1987).
Old, but a classic.
ISBN# 0-944844-47-2
Feinberg, Linda. I'm grieving as fast as I can: How young widows and widowers can cope and heal. New Horizon Press (1994).
Support guide for young widows and widowers, advice and shared experiences.

Golden, Thomas R., LCSW. The Way Men Heal.
Golden, Thomas R., LCSW and Miller, James E. When a Man Faces Grief / A Man You Know Is Grieving. Learn More...
Golden, Thomas R., LCSW. Swallowed by a Snake: The Gift of the Masculine Side of Healing. HG Publishing. Learn More...
Hall, Donald. Without. Houghton Mifflin Co; Boston, Massachusetts (1998).
This book of poems speaks to grief as a poet lamenting the death of a poet, and as a husband mourning the death of his wife.
ISBN# 0-395-88408
Keogh, Abel. Dating a Widower: Starting a Relationship with a Man Who's Starting Over.
Dating a Widower is your 101 guide to having a relationship with a man who's starting over. It also contains over a dozen real life stories from women who have gone down the same road you're traveling. It's the perfect book to help you decide if the man you're seeing is ready for a new relationship—and whether or not dating a widower is right for you.

Keogh, Abel. The Ultimate Dating Guide for Widowers.
Men and women grieve differently. Though both feel the pain and sorrow that come with losing a spouse, widowers start dating much sooner than widows—usually within the first year of their wife's passing. While there's nothing wrong with dating again that quickly, widowers often get into relationships before they're emotionally ready to take that step. That causes problems for them and the women they are dating. This book looks at the success stories and learning experiences of Joe Biden, Thomas Edison, Peirce Brosnan, and Paul McCartney.

Keogh, Abel. Life with a Widower: Overcoming Unique Challenges and Creating a Fulfilling Relationship.
If you're dating or married to a widower, you've encountered relationship issues that other couples just don't have to deal with. Whether it's the comments on his late wife's Facebook page or the tattoo commemorating the love of his life, there are some situations that are unique to widower relationships. Drawing on over a decade of experience helping women in relationships with widowers, Abel Keogh tackles the most common, day-to-day widower relationship challenges so you can gracefully navigate and overcome them.

Knoll, Herb. The Widower's Journey. (2017).
With Deborah Carr Ph.D. and Robert L. Frick.
ISBN# 1541344065
Kodanaz, Rachel. Living with Loss, One Day at a Time. Fulcrum Publishing (2013).
Levang, Elizabeth, Ph.D. When Men Grieve: Why Men Grieve Differently and How You Can Help. Fairview Press (1998).
Lewis, CS. A Grief Observed. The Seabury Press; New York (1961).
A sensitive and powerful story of the author's grief experience after the death of his wife. Lewis reflects on the fundamental issues of life, death and faith in the midst of loss. This book acknowledges how one can lose all sense of meaning in the universe and eventually regain his or her bearings.

Lintermans, Gloria and Stolzman, Marilyn. The Healing Power of Love: Transcending the Loss of a Spouse to New Love. Champion press; Wisconsin (2006).
This is a collection of 12 stories from widows and widowers of all ages, from all walks of life and situations, sharing their new loving relationships.
ISBN# 1932783512
Page, Patrick W. Cowbells and Courage. Learn More...
Petrie, Dr. Ronald G. Into the Cave: When Men Grieve.
503-771-4341

Petsel, Marvin. Grief: The Lonely Road/A Widower's Journey Toward Hope. Embers4growth Publishing (2014). Learn More...
Rando, Therese A., Ph.D., BCETS, BCBT. How To Go On Living When Someone You Love Dies. Bantam Books; New York (1991).
Russell, Mike. My Compass, Our Story: A Journey Through Death and Life. T Michael Healing Arts (2017). ISBN# 9780989659383
Sedacca, Rosalind and Sherman, Amy. 99 things Women Wish They Knew Before Dating after 40, 50 and Yes, 60!.
A Woman's Guide to Avoiding Dating Disasters.
ISBN# 978-0-9866629-4-2
Silbert, March and Spielman, Harold. Suddenly Solo. Ideation Consulting (2012).
Sittser, Jerry. A Grace Disguised: How the Soul Grows Through Loss. Zondervan Publishing; Grand Rapids, Michigan (1995, 2004).
Written by a man whose mother, wife, and young daughter were killed in motor vehicle accident. "The experience of loss does not have to be the defining moment of our lives. Instead, the defining moment can be our response to the loss."
ISBN# 0-310-25895-2
Wolley, Robert. Seniors in Love: A Second Chance for Single, Divorced, and Widowed Seniors.
Deals with the emotional, financial, physical, and other relevant issues facing seniors when considering a new, intimate relationship. Topics covered include: What is love? Should one fall in love again – at an advanced age? What will the children say? What rewards are possible? What happens when love fails? How does one express, and receive, love? Do seniors love, and make love differently?

Organizations with Information About Grief